Whitesville, Kentucky
Jump to navigation
Jump to search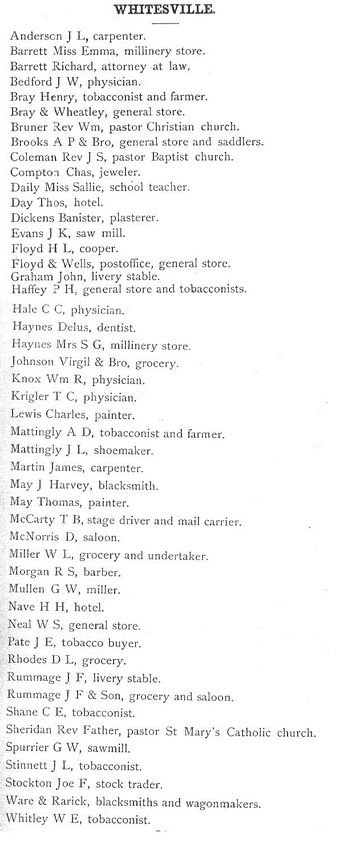 Whitesville is the second-largest town in Daviess County with a population of about 700, an elementary school, a parochial elementary school and high school, a 22-acre park, and its own Chamber of Commerce.
Early History
Whitesville began when Robert Triplett of Owensboro, who owned a large tract of land along the Leitchfield Road near the Ohio County line, began laying out a town. Dr. William White moved there in 1842, opened a store, and eventually, as the population grew, resumed the practice of medicine.
Several businesses moved to the new town, then known as"Cross Roads", from the village of Boston, a short distance on the road to Owensboro. Among the settlers were wagon maker William Miller, blacksmith William Dillahay, and shoemaker J.T. Kelly.
Town Growth
The town grew rapidly in the 1850's, but did not have either official charter as a town or a post office. The post office was moved from Boston in 1859, moved back briefly during the Civil War, and permanently relocated to Whitesville in 1865. Finally, in 1867, Whitesville was incorporated, under its present name, and "Cross Roads" was forgotten. By this time Whitesville had a population of 320, with a fine dry-goods store, a drug store, two saddling shops, two blacksmiths, and two churches—Baptist and Christian. In 1868 Jesse Haynes opened a flour mill which was later purchased by G.W. Mullen and expanded. The larger mill could grind 150 bushels of wheat or corn in ten hours, and accommodated farmers from both Daviess and Ohio Counties.
Whitesville became an important station on the Owensboro, Falls of the Rough and Green River Railroad when it was completed through the town in 1889. Promotional literature for the railroad noted that Whitesville's population was 600. The opening of the railroad gave Whitesville an all-weather transportation link to Owensboro and the wider world, further stimulating the town's growth and business development.
1911 Fire
A disastrous fire broke out on May 8, 1911, and flames raged through he downtown district. The fire began in the warehouse of the A.P. Brooks store, and spread rapidly due in large part to the lack of fire-fighting equipment. An entire block of businesses fronting Main Street were destroyed. The losses included the Brooks store, the R.E. Knox Drug Store, the Christian Church, the town jail, and W.L. Miller's Undertaking establishment. One of Whitesville's best economic periods occurred in the 1920's when oil was discovered in that part of Daviess County and Ohio County. The oil "boom" began in 1925 and lasted about ten years.
100-Year Anniversary
When Whitesville celebrated its 100th anniversary on April 5, 1967, the town had a bank, a volunteer fire department, public water system, 42 street lights, five miles of streets, 221 homes, one police officer, four churches, four grocery stores, two restaurants, a hardware store and a furniture store.
Train Station
Whitesville lost its passenger train service in 1941, but by that time KY 54 was paved and the automobile had become the main means of personal travel. Farmers and shippers also used the new road system and freight trucks delivered. The railroad was removed in 1981, and all that remains of the once-important element of Whitesville's history is the caboose in the city park. Whitesville entered the 21st century as a still-vibrant community, serving a growing retail area, and with pride in its schools and sport teams, particularly those of Trinity High School.
Reference to an article by Glenn Hodges
Extract from the History of Daviess County 1883
Whitesville is situated in the eastern part of Boston Precinct and is the second town of importance in the county. Its population is in the neighborhood of 400 inhabitants, and is a good business center for a large extent of country for a number of miles in all directions. The village received its name from Dr. William Lee White. It was laid out in 1844.
The first house built was by Dr. White and Ben. F. Ramsey, and used as a store. They did business some two or three years. The first wagon-maker was William Miller. Afterward, Martin Shanker was here a few years and then moved to Texas. William Miller remained here till his death. His son, William L. Miller, is now working at the business.
Among the first settlers in the village was William Dillahay, the first blacksmith, who used to carry his coal in his leather apron from Ford's Knob to his shop. An apron full would last him a week or thereabout. He did all the blacksmithing in the neighborhood.
Another early settler was John T. Kelley, who put up a log house, which is still standing. Thomas and Joe Birkhead, and Charles Brand, a German, all blacksmiths, came in an early day. The first shoemaker was John T. Kelley, commonly known as Terry Kelley, who carried on a shop in his house, remaining here a few years.
The first school house was put up by Isaac E. Day, in 1853 or '4. The land was given by James Eddy, and comprised two lots: one was purchased for $15, for a church, and the other he donated for a school house. It was the only school house in this neighborhood. The first school teacher was Upton W. Hawkins, who taught a six months' school. After him, James Nall, Mason Haynes and George Bagott were teachers. The school building stood some five or six years when the Templars of Honor removed it and substituted a new building. They occupied the upper part of the building for their lodge, and the lower part was taken in charge by a stock company and used as a school room. It was used for this purpose until the present Baptist church building was put up, when school was held in the old church. The present number of pupils is in the neighborhood of forty, and frequently many more; present school teacher, F. P. Purcell.
The first physician who settled in the place was Dr. Wm. Lee White, who came from the upper part of the State, and remained for a few years. He is now a resident of Washington D. C. Other physicians were two brothers, Dozier B. and Mars Lewis, who lived here a number of years. Dozier Lewis died here during the war, and his brother remained here a short time after that, and then went back to Nelson County, where they came from, and died there.
The first hotel here was built by James L. Stinnett, who kept it as a tavern a few years, when it was converted into a store-room. The present hotel was built by Dr. John Gillaspy, who used it as a dwelling-house; it was afterward converted into a hotel, and is now run by Joseph G. McCarty.
The first post office was established in Boston, which used to receive mail once a week, via Owensboro. As Whitesville grew into popularity, business being centered here, the post office was transferred to Whitesville, where mail is now received three times a week. The present postmaster is Thomas C. Floyd. The place now contains five dry-goods and grocery stores, one drug store, one saloon, three blacksmith shops, one shoemaker's shop, two churches (Baptist and Christian), two tobacco houses, four physicians, one Masonic lodge and one flouring mill.
Whitesville was incorporated in 1867, through the efforts of Richard C. Barrett and Camden Riley, when Joseph "Veech was Representative in the Legislature and aided the adoption of the bill. In February, 1882, an amended charter was drawn up by Mr. Barrett and submitted to the Board of Trustees, who endorsed it. It was then sent to J. A. Munday, then a member of the Senate, who took charge of it until it was adopted by the Legislature.
The first Board of Trustees, elected April 6, 1867, were: B. P. Yewell, Chairman ; Hardin Gregory, G. W. Mullen, A. D. Mattingly and "W. Cate; J. E. Haynes, Clerk; John Lyons, Treasurer; and Henry Haynes, Marshal.
Present Board: C. Hale, Chairman; C. L. Haynes, G. W. Mullen, A. D. Mattingly and A. P. Brooks; J. W. Haynes, Clerk; T. C. Floyd, Treasurer; R. C. Barrett, Police Justice; J. F. Stockton, Marshal.